"Read for the Record" in Knox County Schools
Staff
Tuesday, November 10, 2020
By: Jackie Steffen, Nebraska Extension Educator
Classes all across northeast Nebraska participated in Jumpstart's Read for the Record program presented by Nebraska Extension Learning Child Educator, Jackie Steffen.
Read for the Record is a national campaign designed to bring children together with caring adults to read the same book on the same day in communities all across the world.
This year, Jackie shared the story "Evelyn Del Rey Is Moving Away" by Meg Medina in 24 classrooms reaching over 290 children.
"Evelyn Del Rey Is Moving Away" is about a young girl who is preparing to move and a special promise between two friends. After hearing the story, children talked about the qualities of being a good friend and the different emotions that we feel by playing a game called Emotion Telephone.
Many schools participate in Read for the Record annually. This year, with COVID-19 restrictions and safety protocols, schools were able to participate with an in-person or virtual presentation. A classroom teacher reported that, "Every year I look forward to having my class participate in Read for the Record. After the presentation, my class had a great discussion about how friendships can go through ups and downs and yet can be sustained."
Reading aloud with children builds key language and literacy skills. A shared reading experience provides an opportunity to connect, ignite their imagination, build a greater understanding of the world, and cultivates a lifelong love of reading. Reading aloud early and often is encouraged!
To learn more about literacy opportunities available through The Learning Child, visit child.unl.edu or contact Jackie Steffen at jsteffen2@unl.edu or 402-254-6821.
Mrs. Connot's class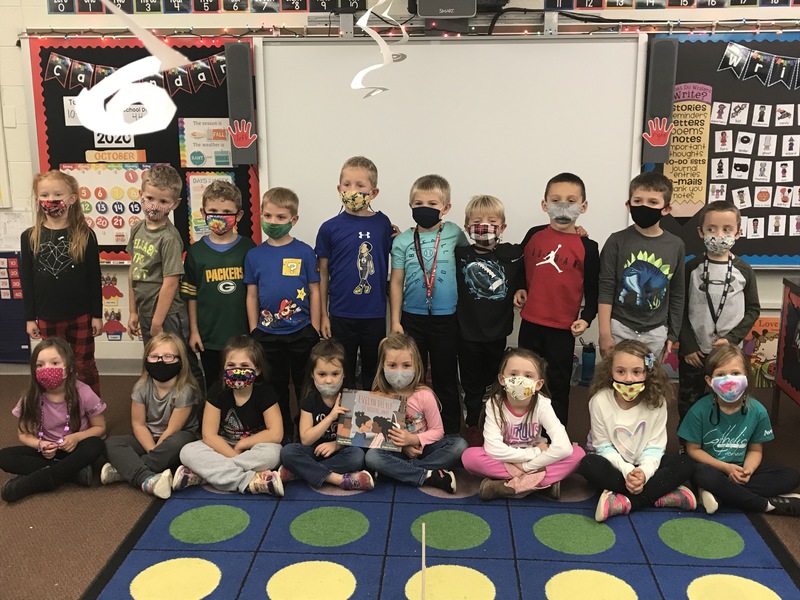 Mrs. Thoene's class