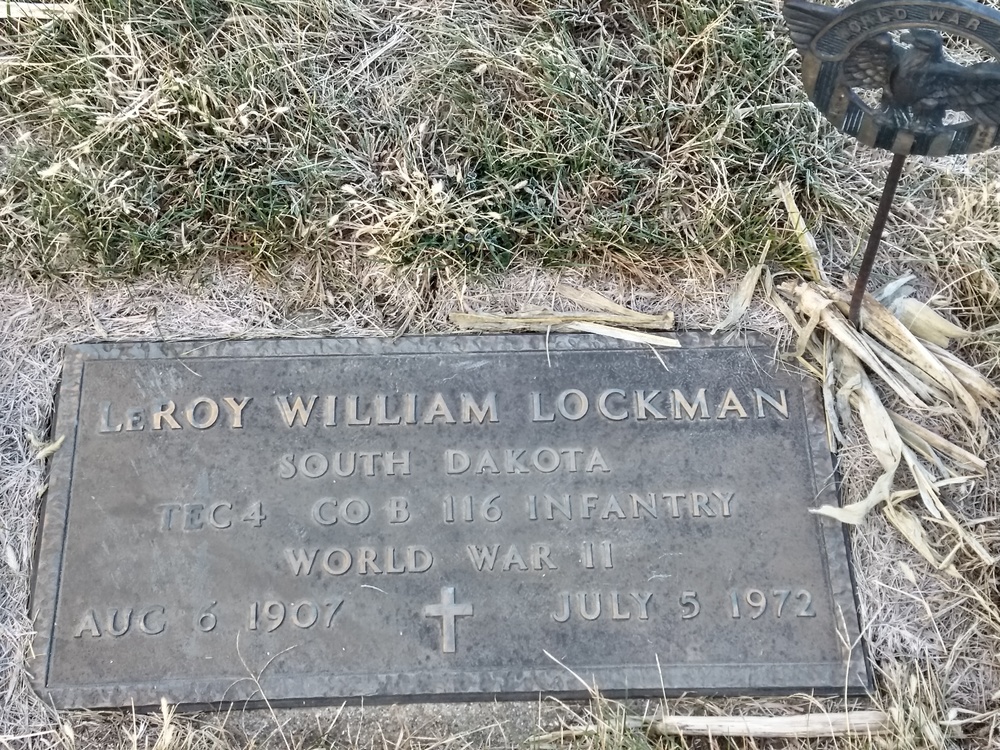 Veteran Stories: On the Beaches at Normandy
Staff
Saturday, November 21, 2020
NOTE: In our ongoing series called, "Veteran Stories," this week we honor LeRoy Lockman, who served with Company B, 116th Infantry during the D-Day invasion of France.
If you visit the gravesite of LeRoy William Lockman at the beautiful and scenic Beaver Creek cemetery north of Crofton, you would never know that Lockman had participated in one of the most historic military events in history. As a member of Company B, 116th Infantry, Lockman, who was born in 1907, was serving with the 29th Infantry Division in June 1944 when they hit Omaha Beach at Normandy.
From April to July 1942, the regiment trained at Fort A.P. Hill, with training maneuvers in the Carolinas. In August, the unit was sent to Camp Blanding in Florida to prepare for deployment. On Sept. 18, the regiment embarked for Great Britain aboard the Queen Mary, which had been converted from a passenger ship to a troop transport. From Greenock, they were moved by rail to Tidworth where they continued training. After duties that included coastal defense as well as intense training, Lockman and his 116th Infantry participated in invasion rehearsal exercises, using landing craft, vehicle personnel (LCVP and landing craft assault (LCA). For the invasion, this unit was part of the initial assault force on Omaha Beach, temporarily attached to the First Division.
On June 3, 1944, Company B, as part of the First Battalion, boarded the SS Empire Javelin. At 3:10 a.m. on June 6 the Second Battalion climbed into their LCVPs. The second wave, which included Lockman and his Company B, started at 7 a.m. Company B waded ashore at about 7:26 a.m. and took heavy casualties right away, cutting their forces down to 28 men by the end of the day. On the next day, the First Battalion, moved back to Pointe du Hoc against tough resistance from the German army to assist Rangers trying to push back against German forces. On June 8, the battalions all came together and the 116th Infantry began fighting as a total unit for the first time in the war. Lockman and his unit captured Grandcamp and advanced towards Maisy and the coastal battery. Finally, on June 11, the 116th was withdrawn to reorganize after all the D-Day losses. Two days later, they were in a running fight again, encountering heavy small arms fire while crossing the river. By June 17, most of the regiment had reached positions within three miles of Saint-Lo. That city was finally captured on July 18. During the time of the invasion, from June 7 to July 19, 438 men from the 116th Infantry were killed, 2040 were wounded and 38 were missing. The unit was finally relieved by the 35th Infantry Division on July 29.
In early August, Lockman and his unit were engaged again during Operation Cobra, fighting in the advance on Vire. On Aug. 7-8, Lockman's battalion took Hill 203, covering approaches to the town which had just been abandoned by German soldiers. They continued in the fight as the Allied forces moved across France and into Germany. Lockman passed away on July 5, 1972 and is buried at Beaver Creek cemetery.
CONTACT US: If you or your parents, grandparents or other relatives from Crofton, living or deceased, served in the armed forces, we would like to tell your story in the Journal as part of this series. If you have a story to tell or digital photos to share, email bowview@gpcom.net with a subject line notation of "Veteran Stories" to let us know the details.