The snowy weather didn't stop the nine state qualifying wrestlers from heading down to state. As a whole the team ended up placing ninth overall for Class C.
Three of the nine qualifiers even brought home some serious hardware.
Individual medal winners included:
120: Robbie Fisher – returning state Champion, 1st place
170: Wyatt Tramp – 5th place
220: Ty Tramp – 4th place
Even though not every match went their way, the Crofton-Bloomfield state qualifiers pushed through and showed why they deserved to be down at the State tournament.
With three medalists in the tournament the Crofton Bloomfield wrestling team made their mark down in Omaha, but also here at home when they brought their hardware to Crofton.
Robbie Fisher – 1st Place
Robbie Fisher was one of those three, after winning his way to the championship round Fisher claimed the championship title once again. Last year Fisher was state champion at the weight 106. He proved this year that he could do the same exact thing at 120 pounds.
For Fisher's first match he won by pin over Tanner Kyllo from Arlington. He came back for his second match and defeated Cooper Rea the exact same way. Then for Fisher's semifinals match he took down Cash Watson of Broken Bow with a major decision of 19 to 6.
To end his junior year season Fisher came out on top after beating Ethan Elliot from Hershey with a 4-2 decision claiming his gold medal.
Wyatt Tramp – 5th Place
Wyatt Tramp competed at the weight of 170 pounds. For his very first match down in Omaha, W. Tramp took down his opponent Isaac Pistulka from West Holt with a decision of 6-2. Then for his second match up, W. Tramp worked hard, but ultimately lost to Ben Alberts from Grand Island Central Catholic, who was undefeated, by a major decision of 16-2. W.
Tramp's next match was on the consolation side, where he defeated Ben McGee of Amherst with a major decision of 13-5. Then for his second match on the consolation side W. Tramp came out on top again after taking down Riley Arner from Fairbury with a decision leading 11-6. When it came down to the consolation semifinal match, W. Tramp fought with all he had but in the end lost to Ashton Lurz of Valentine with a decision of 8-4.
Finally for 5th place W. Tramp had a victorious match after defeating Hollandsworth from Raymond Central with a major decision of 13-5.
Ty Tramp – 4th Place
Ty Tramp competed at the weight 220 pounds and won his first medal ever at the state tournament. For T. Tramp's first match he came out with a win over Wyatt Anderson from Amherst with a major decision of 11-2. T. Tramp's second match also ended in his favor when he defeated Dominick Ritcher from Oakland-Craig with a pin.
For T. Tramp's semifinal match he came out short with a loss to Jaret Peterson from Chase County with a decision of 5-0. T. Tramp came back though in his next match with a 2-0 decision over Wyatt Anderson from Amherst. His next and final match was for third place. T. Tramp worked hard throughout the entire match, but his opponent Hank Hudson from Boone Central ended up on top with a pin earning T. Tramp 4th place.
Braeden Guenther
Braeden Guenther at 138 pounds wrestled Brady Hochstein from Cedar Catholic for his first match down at the state tournament. Hochstien came out on top over Guenther with a pin. Guenther fought hard in his second match as well, but when it came down to points he lost with a decision of 5-2 to Gavin Sandoz from Valentine.
Brock Jeannoutot
Brock Jeannoutot at the weight 152 pounds wrestled Bricen Wilkie from Malcolm; however, Jeannoutot fell short when Wilkie came out with a pin for the win. For Jeannoutot's second match at the tournament he gave his all, but in the end his opponent Dakota Baum from Broken Bow came out the winner with a decision of 11-8.

Garrett Buschkamp
Garret Buschkamp went down to state for the last time at the weight of 170 pounds. For Buschkamp's first match he gave his all but Hunter Meyer of Ord came out with a win by a decision of 4-1. Buschkamp's first match on the consolation side went more his way as he beat Karyn Strecker of Falls City with a decision of 3-1. Then for his final match ever Buschkamp put everything on the line, but ultimately fell short to Cooper Stokebrand of Tri County with a score of 5-3.
Casey Jeannoutot
Casey Jeannoutot went down to Omaha to compete at the weight of 182 pounds. C. Jeannoutot's first match didn't go his way after his opponent Thomas Vrana of Bishop Neumann came out on top with a decision of 2-1. For Casey's second match he turned things around with an overtime victory decision of 4-2 against Jace Lickliter of Raymond Central. However for C.Jeannoutot's third match he came out short when Nate McDonald from North Bend Central defeated him with a decision of 8-3.

Tyson Sanger
Tyson Sanger at the weight of 195 pounds went down to Omaha for his first time to compete. Sanger came out victorious in his first match, beating Dakota Zlomke of Battle Creek with a decision of 4-3. For his next match Sanger was defeated by Ryan Gabriel from Ord with a technical fall decision of 17-2. Then for his last match in the state tournament, Sanger left it all out on the mat but was taken down with a pin by Mason Kreikemeier of Raymond Central.

Paxton Bartels
Paxton Bartels also traveled down to the state tournament for the last time in his career. Bartels fell short of a win for his first match in Omaha to Markey Heinrich's of Fillmore Central by pin. He turned it around for his next match on the consolation side with a win over Aaron Fellers of Archbishop Bergen with pin. Then for Bartels final match he gave it everything he had but ultimately lost to his opponent Quade Peterson of St. Paul by a pin.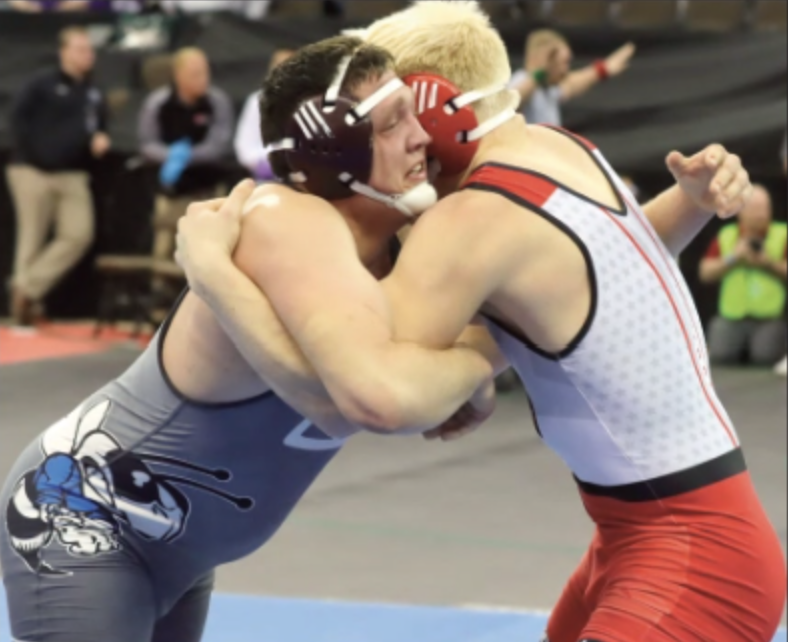 Fourth-place medalist Ty Tramp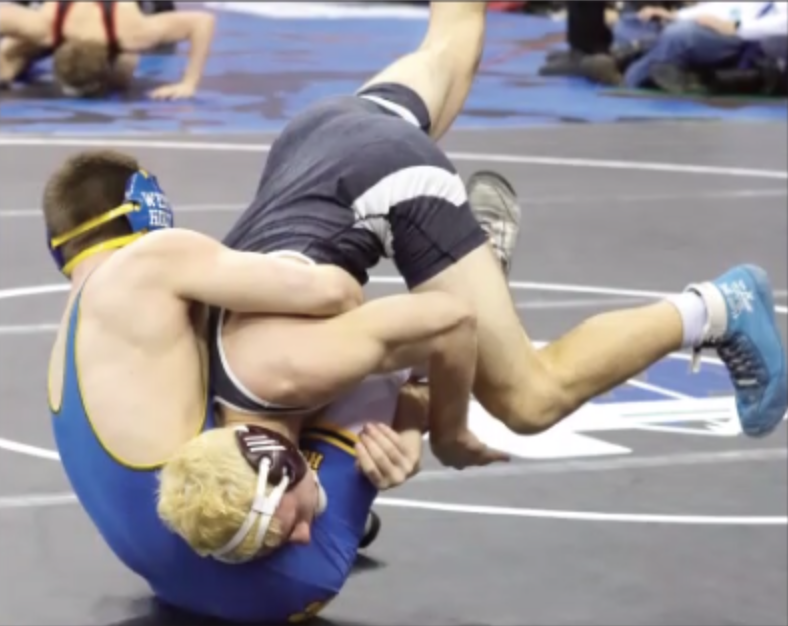 Fifth-place medalist Wyatt Tramp

More photos available online at www.croftonjournal.com - click "Smugmug"