It's clear to see when one spends any amount of time in Upper Missouri Trading Company with JW "Doc" Carlson, his first love is the art of gunsmithing. His place of business can best be described as a hybrid of store and museum.
Graduating from the Kansas State Veterinary Program in 1959, Carlson started his vet practice in Crofton that June in the building on Second Street directly east of the South City Park, taking over for Dr. Hittle. In 1972, he moved into the building he now occupies on Highway 12.
He was married to Demarus "De" Wefso in 1958 who quickly started sharing his enthusiasm for all kinds of firearms. The couple made the rounds of gun shows where they became involved in buying and selling, rebuilding guns, selling antique parts, and developing a niche for muzzle-loaders and related accessories. In the 60's, Carlson split his time between his veterinary practice and his gun hobby, with the gun hobby eventually winning out.
In 1986 Carlson sold his veterinary practice and turned his hobby into a full time business. He developed a catalog of guns along with every part and accessory imaginable for people who want to purchase a hard-to-find rifle or fabricate one of their own. The catalog also contains some classic Doc Carlson humor. When describing the town of Crofton he states, "We're small enough that we can't afford a town drunk full time. We share one with the neighboring town." A large part of Carlson's business is repairing firearms. He recalls one of his greatest challenges was repairing an 1850 Savage revolver for which he had to make parts.
Behind the display area of Upper Missouri Trading Company is the gunsmithing shop which is a jungle of machinery where Carlson does the bulk of his custom work and repairs. He's made over 200 casting molds for various parts with an emphasis on muzzle loaders. He also constructs five to seven custom guns per year which includes carving designs on the wooden stocks.
Over the years, Carlson has noted changes in the firearm business. There's been a movement to the use of more military weapons and long-range rifles for both hunting and target practice. There is an increase in the number of women interested in shooting and hunting. Muzzle loading is gaining popularity as a family activity along with the sport of cowboy action shooting.
Carlson has been a long-standing member of the National Rifle Association (NRA) where he served on the Black Powder Committee and helped formulate the rules for Black Powder Silhouette Shooting. Locally, he's served as an EMT for 35 years and as a member of the Crofton Volunteer Fire Department for 56 years, retiring four years ago.
Carlson's son, Scott, who lives in Atwood, Kans., has followed in his father's footsteps with his specialized business of 32 years, Carlson's Choke Tubes, LLC. His daughter, Sheryl, is a pharmacist in St. Louis.
Everyone who's known Doc Carlson will vouch that on top of his expansive knowledge of his trade, the legendary businessman is always ready to share a good story or an original one-liner which will leave you smiling for the rest of the day.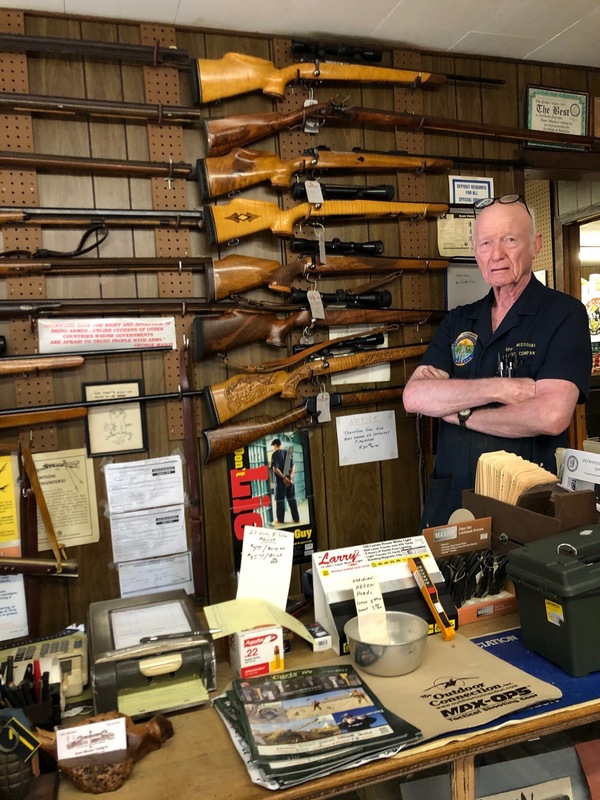 Doc Carlson with some of his custom built rifles at Upper Missouri Trading Company.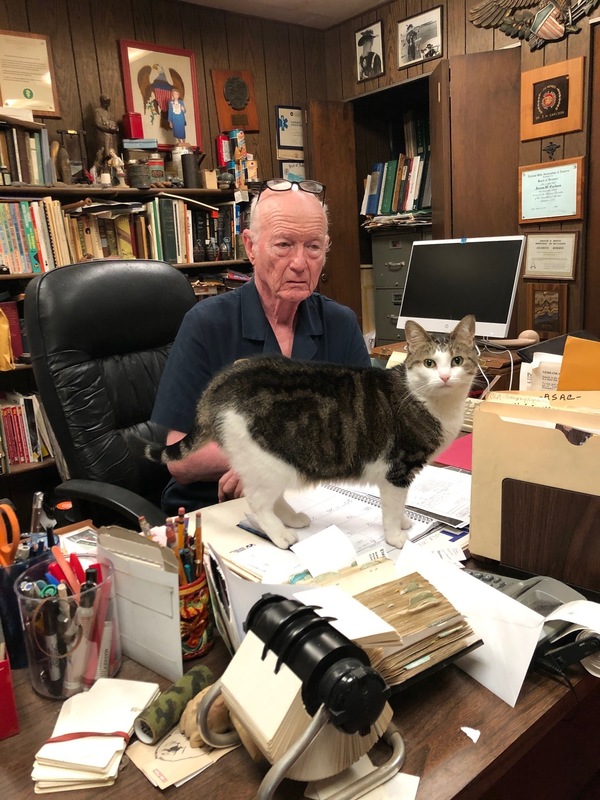 Doc Carlson admits his two large felines actually "own the place."