Funeral services for Beulah Saul Denney, age 58, of Santee, were held Tuesday, April 19, 2022, at Oyate Oyanke Community Center in Santee.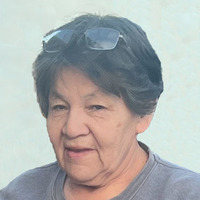 Redwing Thomas will officiate, with burial in Catholic Cemetery in Santee.
Beulah A. (Saul) Denney was born on August 10, 1963, to Katherine Redwing and Glen Saul, and she passed away peacefully in her home on Thursday, April 14, 2022.
She grew up in Santee, and fell in love with Larry "Ike" Denney in 1984.
She was remembered for always having a mother's heart and raised her sons, daughters, and grandkids as the joy of her life.
When she wasn't busy with her family, she invested time earning her Associate of Arts degree from Nebraska Indian Community College. She utilized her skills while working at the Ohiya Casino, Santee Sioux Nation Housing, and Bloom N Egg Farm.
She enjoyed going to the casino and playing bingo with her friends. She loved spending time with her grandchildren and other relatives and friends.


She was preceded in death by her love, Larry "Ike" Denney; her parents, Katherine and Glen Saul; sisters, Gladys Flyinghawk and Francis Williams; brother, Darrel Saul, Sr.; stepdaughters, Regina Denney and Barb Thomas; and missing brother, Merle Saul.


Beulah Saul Denney is survived by Glenda (Brice) Decory, Darrel (Carol) Denney, George Henry, Larry (Eliza) Denney, Tashina (Sandy) Denney, Alonzo (Jessica) Denney, Hank (Tiffany) Denney, Jacinta Denney, Rochelle (Harold) Baker, and Mato Makes Room For Them; 38 grandchildren; six special grandchildren whom she raised as her own, Sonny and Romani Thomas, Rolando, Jessenia, Giovani, and Natalia Jaimes; her sisters, Millie Swalley and Laura Cavillo; and brothers, Milton Saul and Eugene (Michelle) Saul.


Brockhaus Funeral Home in Niobrara, Nebraska is in charge of arrangements.