The Crofton Warrior and Lady Warrior track teams sent a large group competitors to the 2022 Class c State Track invitational at Burke High School in Omaha on May 20-21, with seven of those athletes returning home with a state medal.
Distance runner Jordyn Arens put her name in the history books with two State titles, with first place finishes in the 1600m run and the 3200m run over the two day competition.
Other top eight finishers were Ellie Tramp in both her hurdle competition; the girls 4x800-meter relay team of Rylie Arens, Kiera Alwtine, Elizabeth Wortmann and Jordyn Arens, and the pole vault duo of Jayden Jordan with a third and Mayson Ostermeyer with a seventh overall.
Individual results from the Warrior and Lady Warrior athletes included:
1600m run: 1, Jordyn Arens, 5:17.98
3200m run: 1, Jordyn Arens, 11:28.48
Pole Vault: 3, Jayden Jordan, 10'6" (medalist, first was 11'6")
100m hurdles: 4, Ellie Tramp, 15.66 secs (medalist, first was 14.33)
4x800m relay: 5, Crofton (Rylie Arens, Kiera Alwtine, Elizabeth Wortmann and Jordyn Arens), 10:20.48 (medalists, first was 9:54.02)
300m hurdles: 8, Ellie Tramp, 51.68 secs (medalist, first was 45.6)
Pole Vault: 7, Mayson Ostermeyer, 13' (medalist, 14' decided by jump off)
Triple Jump: 15, Caitlin Guenther, 33'3.75" (first was 37'3.25")
Discus: 20, Caitlin Guenther, 99'0" (first was 137'11")
Ellie Tramp finishes in 4th place for the 100m hurdles. Photo credit: Jeremy Buss, Buss Photography
Jayden Jordan placed 3rd for girls pole vault. Photo credit: Sean Anderson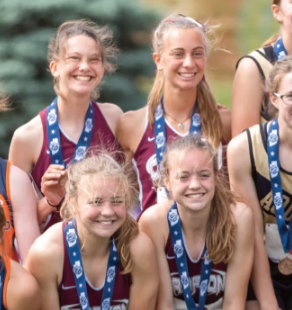 Elizabeth Wortmann, Kiera Altwine, Rylie Arens and Jordyn Arens took 5th place for the 4x800 relay. Photo credit: Sean Anderson