Funeral services for Wayne Mackeprang, age 48, of Bloomfield, were held Tuesday, May 24, 2022, at First Trinity Lutheran Church in Bloomfield.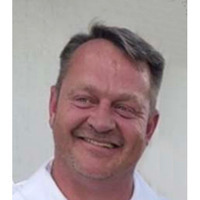 Reverend Jacob Bobby officiated, and burial was in Bloomfield City Cemetery.
Wayne Allen Mackeprang was born on May 31, 1973, to Dean and Doris Mackeprang, and he died Wednesday, May 18, 2022, on the farm, doing what he loved.
He graduated from Bloomfield High School in 1991 and attended college. After college, he returned to the family farm and worked alongside his dad, uncles, and brothers.
He was a lifelong member of First Trinity Lutheran Church.
Mackeprang married the love of his life, Kristel, on May 25, 2019, and became a father of two children, Keldon and Kysa. He was a dedicated family man and could often be found cruising the countryside with them. He was remembered as having such pride in his kids, nieces, and nephews, attending their activities, tutoring them in school and working with them on the farm.
Mackeprang loved sports of all kinds. He loved playing baseball, softball, and bowling. He always knew every statistic and score, of every game, and loved to share all the play by plays. His love for sports continued into his coaching of Legion baseball for 20 years and recently he started coaching his daughter's softball team.
He took great pride in contributing to the Mackeprang Farm legacy and working alongside his dad, brothers, uncles, nephews, and nieces. Even though he loved the land, cattle were where his heart was. Just like sports, he could recite every number and lineage in the herd. Most recently, he took on the venture of American Wagyu and started Machan Wagyu.
His family remembered him with "during his short time here, he touched so many lives and will be missed by all."
He was preceded in death by his father, Dean; grandparents, Rudolf and Katherine and Herbert and Ella; cousin, Roby; and aunts and uncles.
Wayne Mackeprang is survived by his love, Kristel; children, Keldon and Kysa; mother, Doris of Bloomfield; in-laws, Steve and Darla of Norfolk; siblings, Kevin of Bloomfield, Kathleen (James) of Sioux Falls, Curtis (Christy) of Bloomfield, and Anthony (Kristy) of Bloomfield; brother-in-law, Anthony (Leah) of Norfolk; sister-in-law, Kandace (Ben) of Pierce; nieces and nephews, Tyler (Karley), Alexis, McGwire (Delaney), Mitchell, Mason, Lily, Elise, Andie, Wesley, Willow, Autumn, Ashton, and Colton; great-nephew, Knox; and many aunts, uncles, cousins and friends.
Brockhaus Funeral Home in Bloomfield is in charge of arrangements.