After a non-league game against Wynot earlier last week, Crofton's Bluejays (1-1) began their campaign to defend their South Central League District title from 2021 against a challenging Yankton Tappers team at home last Thursday night, May 19.
Jays open vs. Tappers
Yankton took the early lead 3-0 into the third inning in the SCL opener, but Crofton came roaring back, taking the lead 4-3 after three. A few more runs for each team and the Jays went into the top of the seventh inning in good shape, down by only one run. But Yankton bats got going, tagging nine runs to take the lead for good, 17-7 in a seven inning outing.
"It was good to open the SCL season at home," said Jays manager, Ben Hegge."I thought we competed very well and it was a closer game than the score showed. It was nice to see us battle back and pull within a run going to the seventh inning."
For Crofton, Lathan Maibaum hit two singles, Christopher Kleinschmit, Austin Hegge and James Kaiser all had singles each. A couple of former Crofton Legion baseball standouts contributed, including Andy Knapp, who hit a base-clearing RBI triple, and Austin Tramp who had his first start on the mound for the Bluejays and had a nice outing, pitching six innings, tagging two strikeouts and allowing just four earned runs.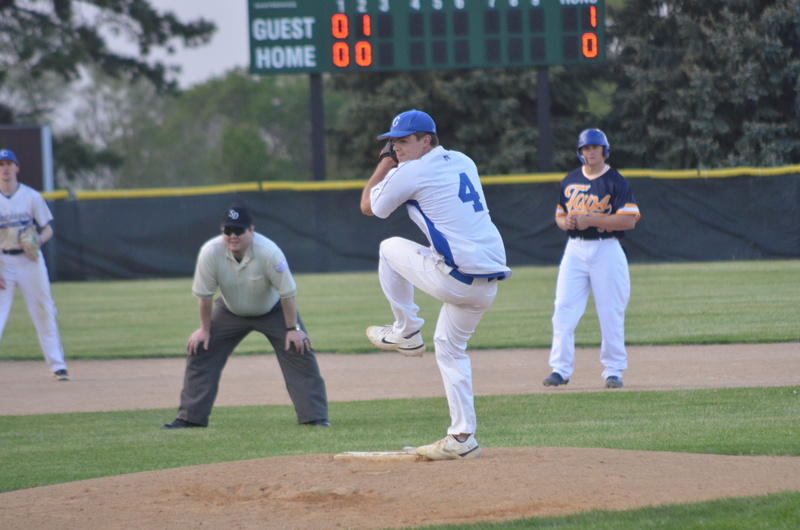 Austin Tramp got his first start on the mound for the Bluejays home SCL opener last Thursday, May 19 against the Yankton Tappers.