The Crofton Junior American Legion baseball club played three games in a four day stretch over this past week, but have been unable so far to put a "w" on the board, in spite of good performances over their first three outings of the season.
Battling Battle Creek
The season started with an away matchup against Battle Creek last Monday, May 23. BC used single runs over the first three innings and another in the fifth to outlast Crofton, 4-1. For Crofton, Zack Foxhoven, Braxton Foxhoven and Jake Hochstein all had base hits.
CROFTON 1 0 0 0 0 0 0 - 1 3
Battle Creek 1 1 1 0 1 0 - - 4 4
Wakefield at home
It was another defensive battle when Wakefield came to town for a Juniors only outing last Wednesday night, May 25, with Wakefield taking the win, 3-1, and Crofton stranding the tying runs on base. Wakefield jumped out to an early 1-0 lead after the first inning. Crofton waited until the fifth inning to strike with a run, but Wakefield notched two more runs in the sixth to gather the win. Crofton had just one hit, a single by Zack Foxhoven, to Wakefield's four hits on the night.
Wakefield 1 0 0 0 0 2 - 3 4
CROFTON 0 0 0 0 1 0 - 1 1
Strong against T-H
Crofton's bats got going in an away matchup against Tekamah-Herman on Friday, May 27. Although the Juniors didn't bring home the win, Jack Miller and Wyatt Tramp both had singles and Braxton Foxhoven nabbed a double in the 7-5 loss. T-H got a pair of runs in the first inning and Crofton matched it with a run of their own. T-H added three runs in the fourth, but the Juniors tacked on three runs of their own in the fifth to keep it close, 6-4. T-H brought another run in the sixth and Crofton added another too, but was unable to catch up. T-H ended the night with five hits to Crofton's three.
CROFTON 1 0 0 0 3 1 - 5 3
T-H 2 1 0 3 0 1 - 7 5
The Juniors are home this upcoming Wednesday, June 1 with a 5:30 p.m. first pitch in Crofton against Pierce. They travel to Ponca on Thursday, June 2. Crofton hosts the Kyle Mueller Tournament this weekend, June 3-4, before the Juniors take on Hartington at home on Monday, June 6 and host South Sioux City on Wednesday, June 8.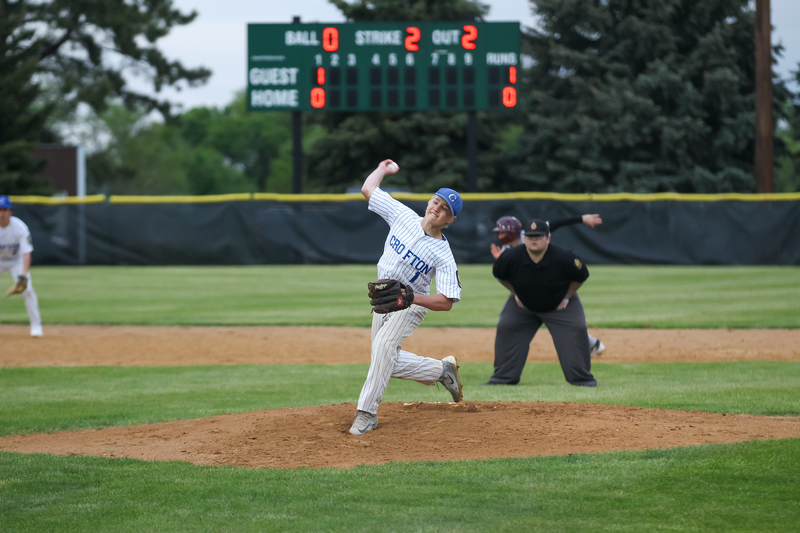 Carson Wieseler served at pitcher for the Juniors game against Wakefield.
Zack Foxhoven reaching for a force-out against Wakefield.