This week, a piece of Crofton history is returning after an almost 100 year long journey.
A 1925 Model T Ford car belonging to a list of different Crofton natives and relations has been donated to the Crofton Haymarket LLC to be put on display. The official 'unveiling' of the car will be at the "Roaring 20's" themed party this Saturday, June 11 at 6 p.m. The car was donated by William and Sherrie Maule from Scottsdale, Arizona.
There and Back Again:
The car came straight from a Ford Factory in Michigan. The Doctors Coupe Model T (pictured above) was shipped to Crofton by railroad and listed for $520. Its first home was the old Hart Brothers Ford Garage, which was located where the city auditorium now stands. Run by Frank and Lou Hart, the dealership sold and maintained cars in the early days of Crofton.
The car was then purchased by Emil Eliasson on March 3, 1925. The longest trip the car would take during its time with Eliasson, was to Center, to be registered. Otherwise, it was strictly to replace a horse and buggy for trips to town from his farm, located 2 miles South of Crofton. Emil then sold it to Ott Bogner in 1945, and it would remain in the family from that moment on. Ott was 30 at the time and the Model T was the first car he had ever owned. He worked for the Nebraska Highway Engineers and drove the car many miles to work and back each day. Later on in his life, he became the owner of a service station in town which he turned into the well-known "Bogner's" steak house.
Ott retired the Model T in 1955 and it sat in a garage until 1973. Ott then offered to sell the car to his sister and brother-in-law, VK (Bill) and Ramona Maule who were Crofton natives that lived in Scottsdale, Ariz. They took the Model T with them to Arizona, where it remained in storage until 1985. Bill and Ramona then sold it to their son, William (Bill) Maule.
At that time, the car had been in storage, unused, for 49 years, but William and his wife Sherrie began the daunting process of bringing it back to life.
By 1989, the wood frame had been replaced, along with cleaned up tanks and a repaired radiator. William then met Jerry Munday who agreed to take on the long job of frame restoration. Before long, the car was like new.
William and Sherrie have both passed away in recent years but they left an incredible piece of history behind for the community of Crofton, and a legacy wrapped up in their care for keeping and protecting something that can be enjoyed by generations yet to come.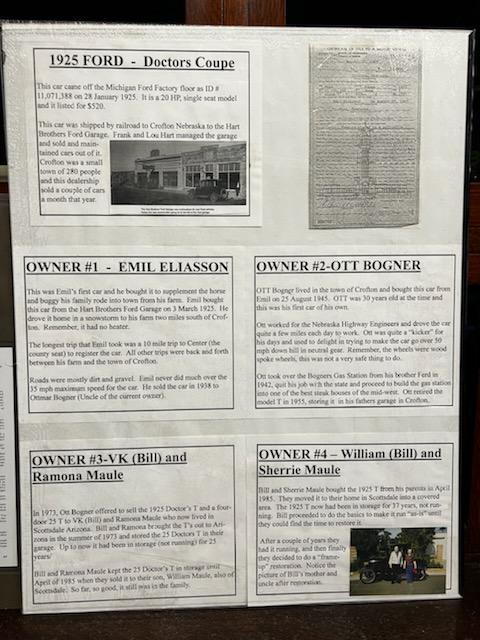 The Model T was painstakingly restored piece by piece to its original quality.