Crofton (4-7) led 5-0 at one point early on in the annual Independence week South Central League matchup against Wynot (4-7), in front of a big hometown crowd. But a late-inning grand slam and another two-run homer and other scattered runs from the Expos doomed the Bluejays to a 13-5 loss this past Sunday night, July 3. The annual Crofton Community Club fireworks show followed the explosive SCL game and didn't disappoint spectators from Crofton and Wynot who attended the annual showcase.
Sunday night's loss followed an 11-inning home loss, 7-6, to Tabor (5-4) this past Thursday, June 30. James Kaiser went nine innings on the night on the mound for the Jays, striking out seven. Austin Tramp pitched in relief. It was tied 3-3 after nine, with each team adding three more in the 10th inning. Tabor got a run in the 11th to gather the win. For Crofton, Ben Hegge had a pair of hits, Austin Tramp had a double and two singles, and Danny Melena, Andy Knapp, Lathan Maibaum and Colton Schieffer all added hits for the Jays.
Last week Thursday put a chink in the armor of league-leading Lesterville (8-1), with the Broncs losing to Menno, 14-13. Lesterville still leads the SCL, followed by Yankton (7-3) and Tabor. Crofton and Wynot are tied for fifth place in the league, just ahead of Menno (2-7).
This Thursday, July 7, the Jays travel to Yankton to end regular season league play for Crofton. But that's not it for baseball before district play. The Jays head to Briar Cliff Field in Sioux City to take on Sioux City on Saturday, July 9 at 5 p.m. The following night, Sunday, July 10, Vermillion comes to town for a 6 p.m. game. The Jays are on the road again on Tuesday, July 12 to Akron.
Then, on Friday, July 15, Sioux City comes to Crofton for a 7:30 p.m. game on Fan Appreciation night and the annual Baseball Association raffle drawing. Districts this year run from July 21-30 at Freeman.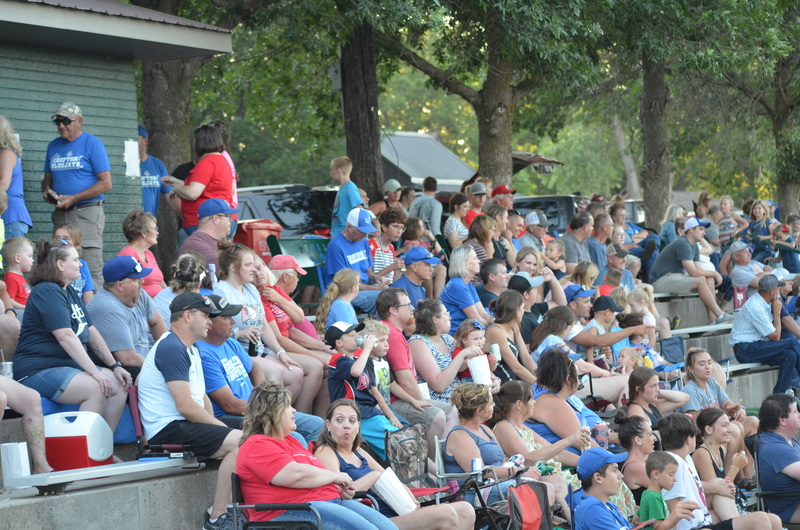 The hometown crowd, like always, was huge for the annual Highway 12 South Central League matchup against Wynot. Crofton Community Club hosted an entertaining fireworks show after the game.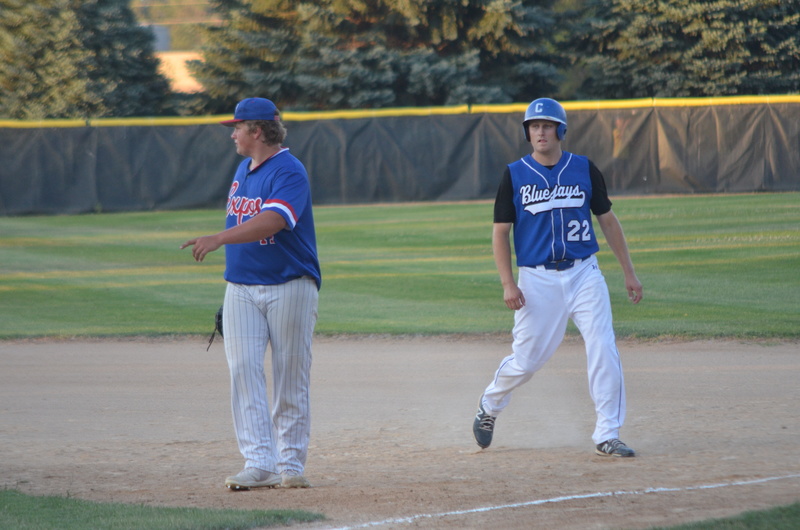 Lathan Maibaum heads back to first base during the Jays game against the Expos.