The 44-foot SIM-NE truck parked on Iowa Street in Crofton on Tuesday, July 19 was the site for an innovative continuing education course for the Crofton Rescue Squad.
SIM-NE stands for Simulation in Motion- Nebraska, a travelling training venue associated with the University of Nebraska Medical Center. The truck contains two labs with training in each provided by two paramedics, C.J Prewitt and Adele Anderson. The life-like "dummies" used in the labs are programmed to simulate actual medical emergencies in two modes: one on-site (home or location of event) and ambulance mode which involves interventions of EMT's and First Responders in the ambulance enroute to the hospital.
Eleven members of the Crofton Rescue Squad participated in the training session which focused on issues of congenital heart defects/cardiac compromise risks and pediatric emergencies. The congenital heart defects (CHD) portion of the training is also known as Project Austin.
The goal of Project Austin is to provide continuity of care to children with special healthcare needs as they transition from the hospital to home by creating community awareness and providing education to local EMS and emergency departments regarding individual children.
Project Austin was named in honor of Austin Simon, a 15-month child with critical airway issues who died when his airway emergency was inadequately managed by EMS. In their grief, Austin's parents did not blame EMS. Instead, Austin's mother, Tiffany Simon, a critical care nurse, initiated a special campaign aimed at training EMS workers and other medical care providers about the needs of children like Austin.
During the July 19 training session, local EMS learned the signs and symptoms to look for and what interventions to take for the best outcome possible. At the end of each training session, the participants' actions were critiqued by the instructors. Members of the Crofton Rescue Squad felt that there was tremendous value in having the simulation "patients", closest to having a real person, to help in recognition and treatment of future emergencies.
Wendy Zimmerman, Janna Foxhoven, Katie Tramp, Vonda Lange and Maggie Carter are instructed by paramedic C.J. Prewitt on pediatric emergencies.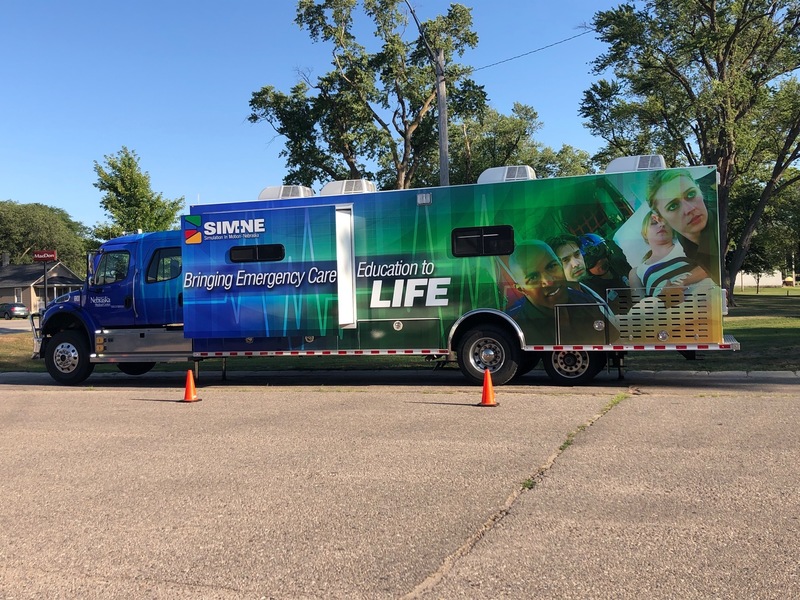 SIM-NE Training Truck and staff make stop in Crofton