With runners starting at 7 a.m. on Saturday, the 2022 Crofton Dam Race main event kicked off with the half-marathon racers – more than 250 racers registered for this year's event.
Race organizers said that 236 of the 252 registered participated in one race or another on Saturday – with 133 individual triathlon participants, 24 teams with 62 racers total, 30 half-marathon runners and 11 bicycle race participants.
Through the Lewis & Clark State Recreation Area, the hills and valleys of highways to Crofton and one last big hill right before the finish line – bikers pedaled 12 miles, runners made it along a 5K and 13.1 mile route, and kayakers paddled for around 1.5 miles.
Following the final racers crossing the finish line in downtown Crofton, the Race committee handed out medals and awards while refreshments and lunches were served at Crofton's eateries downtown, and live music was provided this year by Monte Gulick.
A special award was announced this year – in addition to all the first-place finishers and overall race winners – the "Spirit of the Jorts" award (pictured nearby), which was inspired by Neal Neuhalfen who, according to race organizers "embraces the tenacity, energy and fun of our race." Neuhalfen reportedly did the full triathlon in cut off jean shorts, "Jorts" the first years, and he continues to compete.
This year's "Spirit of the Jorts" award was given to Justice Evans and Sasha Labrenz of Yankton, S.D. who had some major problems with a bike, switching bikes to help each other out throughout the race, even using a loaned bike from one of the water stations – but both finished the triathlon to much acclaim.
Other individual results from the event were:
Individual Triathlon
Top Winners overall:
1st: Tejai Clausen, Norfolk, NE (Took first place last year as well. Photo attached)
2nd: Derek Van Heek, Crofton, NE
3rd: Scott Stopak, Omaha, NE
Fun fact: The top four are the same top four from last year (Clausen, Van Heek, Stopak and Marsh) and in that order!
Top Females:
1st: Nicole Van Heek, Crofton, NE (fun fact, she is wife to second overall Derek Van Heek)
2nd: Amanda Vande Zande, Jefferson, S.D.
3rd: Barb Smith, Hastings, NE
Team Triathlon
1st - Team Worth-A-Tri (Alison Anderson, Devin Anderson and Brian Stewart, all of Yankton, S.D.)
2nd - Team Young, Older & Older (Jolene Steffen, Jason Arens and Connor Arens, all of Crofton)
3rd - Team RITWPE (Austin Lammers, Crofton, Craig Jansen, Crofton, and Kortlyn Tawney, Omaha)
Youth Team Triathlon
1st - Team The Holy Rollers (Evan Robinson, Tilden, Gregory Perrigan, Norfolk, Ashton Koch, Pierce, NE
2nd - Team The Golden Trio (Elizabeth Wortmann, Jordyn Arens, Jenna Jackson, all of Crofton)
3rd - Team Fresh Squeezed (Sophia Wortmann, Addyson Ostermeyer, Emily Guenther, all of Crofton)
Half Marathon
Male overall:
1st - Evan Payer, Yankton
2nd - Darrin Pater, Adrian, MN
3rd - Kris Vander Kooy, Lennox, SD
Female overall:
1st - Ashley Schurman, Crofton, NE
2nd - Sara Merchant, Bronson, IA
3rd - Amy Borgmann, Creighton, NE
Bike Race
Male overall:
1st - Greg Dohrman, Crofton
2nd - Sean Colin, Vermillion, SD
3rd - Tony De Shazer, Crofton
Female overall:
1st - Kacey Eggers, Sioux City, IA
This year's volunteers, organizers, timers, water station hosts and everything in between!
Crofton's Dam Race - 2022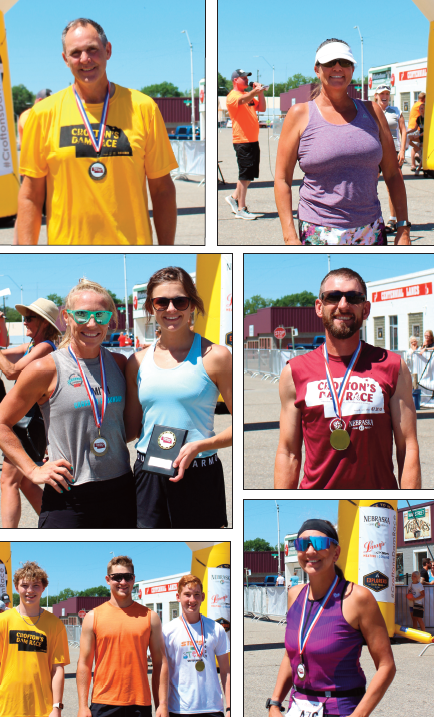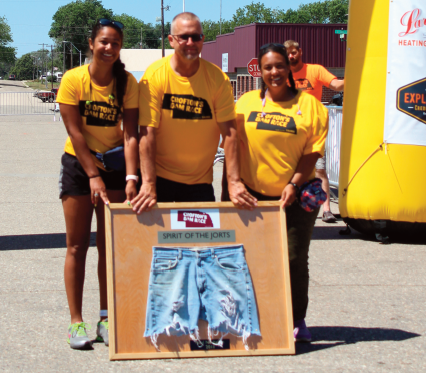 Neal Neuhalfen with his newly named "Spirit of the Jorts" award - presented to the team of Justice Evans and Sasha Labrenz.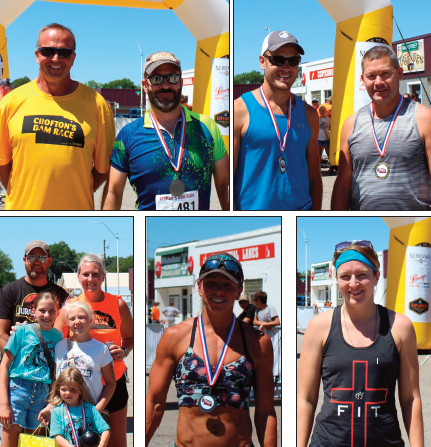 Don't see what you're looking for? View all the pictures online! CroftonJournal.com - click "SmugMug" and find the galleries!