Crofton FFA members did very well at the District Dairy Judging contest held in Hartington on September 28.
The members judged 4 classes (groups) of dairy cows with 4 cows per class. One thing, out of many, they looked for was a low amount of fat to make sure the cow's feed was going towards milk production and not muscle and fat.
The senior judging team consisting of Garrett Bushkamp, Megan Tramp, Madisen Petersen, Lili Weber, Josie Anthony, Cameryn Fiscus, Rylie Arens, and Hunter Guenther got first place out of 13 teams.
The junior judging team consisting of Callie Olson, Jacee Anthony, Addyson Ostermeyer, Ashlynn Schieffer, Jordan Steffen, Anthony Steffen, Jaisie Janssen, and Carter Steffen got second place out of 14 teams.
The junior high team consisting of Layne Schieffer, Elly Sprakel, Arik Lea, Addison Hames, Macklin Folck, Ty Nielsen, Hunter Wieseler, and Hadley Sudbeck placed fourth out of eight teams.
The alternate team of April Guenther, Da'Lando Hughes, Ben Kleinschmit, and Phillip Tejral got third place out of seven teams.
Freshman Callie Olson said the hardest part of dairy judging was the test but studying helped a lot.
Senior team ribbon recipients:
Garret Buschkamp (1st place, purple)
Megan Tramp (6th place, purple)
Madisen Petersen (blue)
Lili Weber (blue)
Rylie Arens (red)
Josie Anthony (red)
Cameryn Fiscus (red)
Hunter Guenther (red)
Junior team ribbon recipients:
Callie Olson (2nd place, purple)
Jacee Anthony (9th place, purple)
Addyson Ostermeyer (blue)
Ashlynn Schieffer (blue)
Alternate team ribbon recipients:
April Guenther (3rd place, blue)
Da'Lando Hughes (blue)
Ben Kleinschmit (red)
Junior High ribbon recipients:
Layne Schieffer (blue)
Elly Sprakel (blue)
Arik Lea (blue)
Addison Hames (red)
Macklin Folck (red)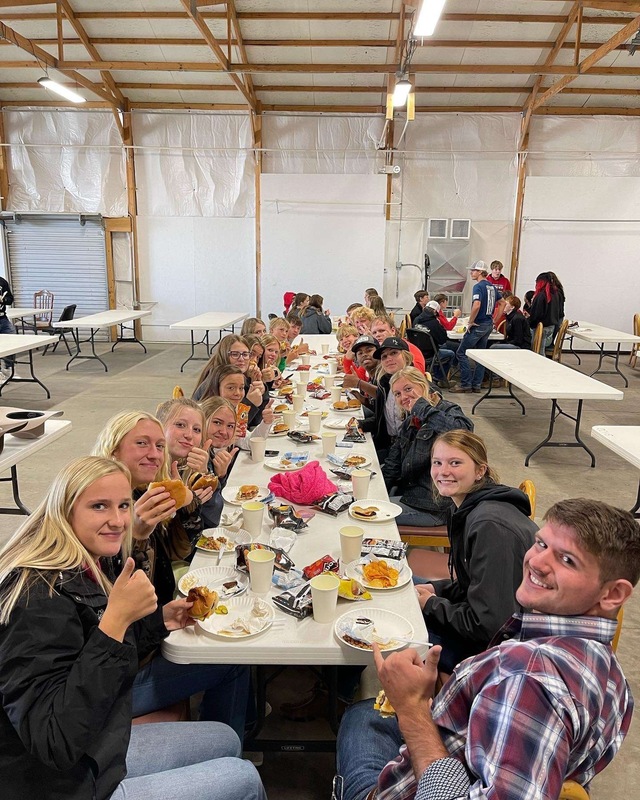 Members of the dairy judging team take a break for lunch.