The Crofton Cross Country team traveled to the Wayne Country Club for the Mid-State Conference Meet on October 6. The Crofton Cross Country team faced off against Wayne, O'Neill, Norfolk Catholic, Battle Creek, Guardian Angels CC, Boone Central, and Pierce.
Overall Crofton placed 2nd in the girls' race. Junior Jordyn Arens came in first place with a time of 19:11, freshman Sophia Wortmann placed 7th, sophomore Rylie Arens ran in 8th, and junior Elizabeth Wortman 11th.
In the boys' race, junior Zac Arens came in 29th, with junior Edison Sudbeck following in 37th, and sophomore Grant Schieffer ran in 42nd. Crofton placed 8th as a team.
Rylie Arens was excited and very pumped to be running in Wayne since it was a new course for many runners. Rylie stated, "I think we were all very excited to be there and to be able to compete that day.'' Crofton's biggest competitor was Wayne and the Blue Devils won by just one point. Arens stated, " I would say that the course was more an uphill course and there were quite a few hills, but we trained to do hills." We are from Crofton so we know how to run hills."
Elizabeth Wortmann was very excited to be there since the conference is the last meet of the year before districts. Wortmann said, "The weather was beautiful and it was chilly but not that chilly that you would have to wear long sleeves.'' Wayne has bridges made out of metal, so it doesn't really work out that well with spikes. Wortmann stated " I like my team they make it so fun.''
Ariel Lammers is a senior and was nervous and very sad since it was her last race. The weather was nice and windy and it was a perfect temperature to run. Some parts of the course were confusing to some people who never ran.
Edison said it was a relatively easier meet before he started to run the race. Edison stated " I need some water before I die.'' he stated "it was pretty cold and it felt like I was wearing an ice pack.'' It was mostly flat but with at least two big hills.
Grant Schieffer was mostly thinking about the Tik Tok for the Journalism class. His thoughts after were that he could have run harder and recorded a Tik Tok right after he finished. It was pretty good weather and pretty cool, so it was good running weather.
The Crofton Cross Country team will be going to State on October 21 at Kearney Country Club.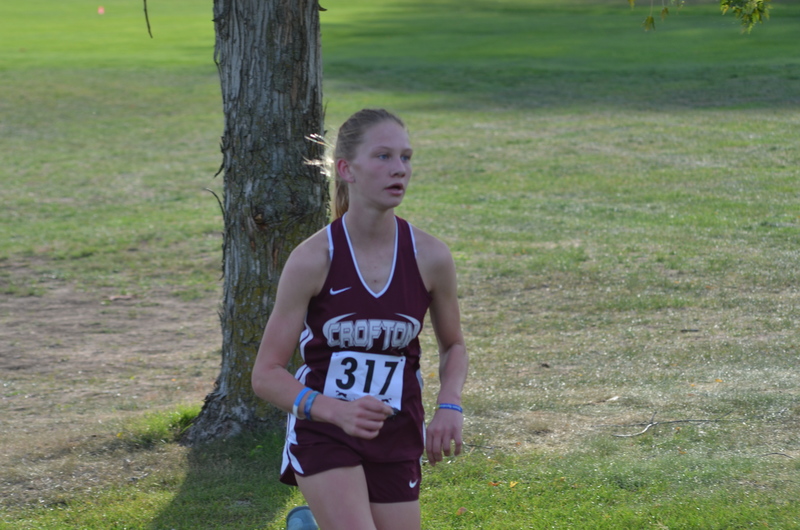 Sophia Wortmann gathered 7th place with a time of 21:16.
Jordyn Arens runs across one of the metal bridges at Wayne Country Club on her way to winning the Mid States Conference girls cross country title last Thursday, Oct. 6.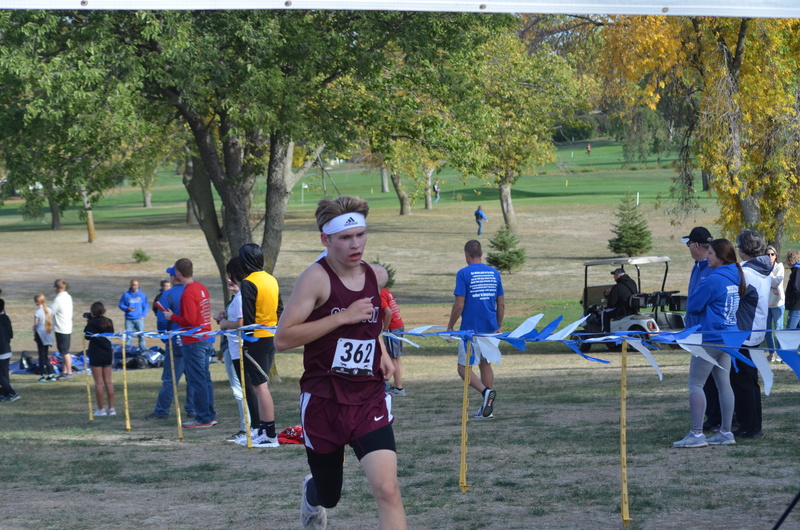 Edison Sudbeck crosses the finish line at Wayne. Sudbeck placed 37th with a time
of 21:20.