Once again taking home the winning trophy, the Crofton Warrior Pep Band held their annual Battle of the Bands fundraiser with participating bands, Gayville-Volin and Ponca, on Friday, January 27 at Crofton High School.
Band director Mrs. Ashley Leader stated, "I would say this year had the toughest competition that we've had. I was very thankful for the turnout. I thought we performed well, and I enjoyed the energy that everybody brought."
Leading the night were emcees, Holly Wortmann and Duane Schieffer. They had the honors of starting each round, leading individual competitions, announcing raffle prize winners, and, of course, being entertaining. The night started by introducing each band, and then jumping right into the rounds. Every round, each band took their turn selecting a pep band song of their choice to perform. No song could be repeated. The three bands were observed and graded by a panel of judges. Judges of the night were Samantha Hahn from Norfolk Catholic, Carrie Jensen from Norfolk, and Clint Dennis from Wisner-Pilger.
In between the rounds, raffle prizes were awarded and individual competitions were held. Junior Emma Bilka won "Highest Trumpet Note." "Best Duck Call" was awarded to a Gayville-Volin player. "Best Trombone Car Rev" was won by sophomore Grant Schieffer. Junior Carter Guenther had the "Best Tuba Lick."
The Crofton drumline of senior Megan Tramp, juniors Zac Arens and Kaylee Mauch, sophomore Samantha Strunk, and freshmen Addyson Ostermeyer and Sophia Wortmann won "Best Drumline." Raising the most money on the night with $1500, Crofton won "Best Fan Base." Finally, winning the whole competition and taking home the 2023 Battle of the Bands trophy was the Crofton Warrior Pep Band.
Senior leader Megan Tramp said, "I felt even though we had a younger team this year compared to past years, we definitely went out and gave it our all. My favorite part was seeing all the people there to support us; it means everything."
Junior Carter Guenther receives his award for "Best Tuba Lick"

Eighth grader Tyson Jackson lets out his "Highest Trumpet Note" on a ladder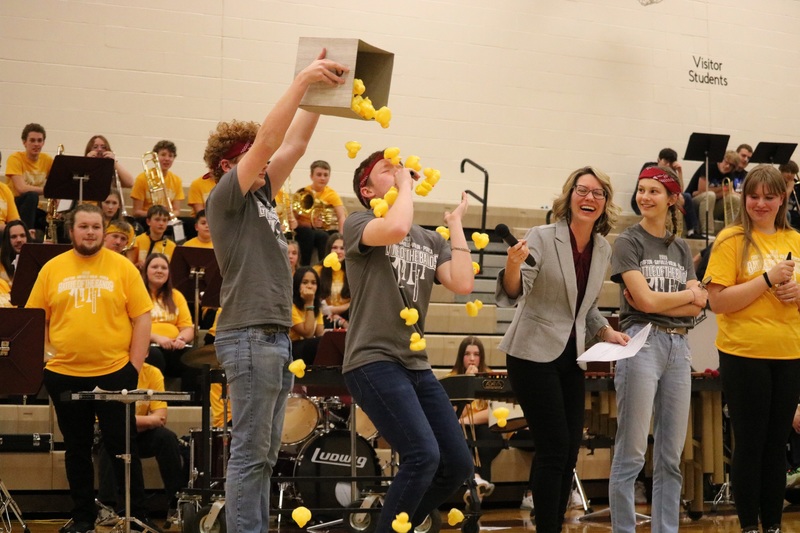 Sophomore Jack Schieffer portraying his "Best Duck Call" while sophomore Grant Schieffer pours rubber ducks on him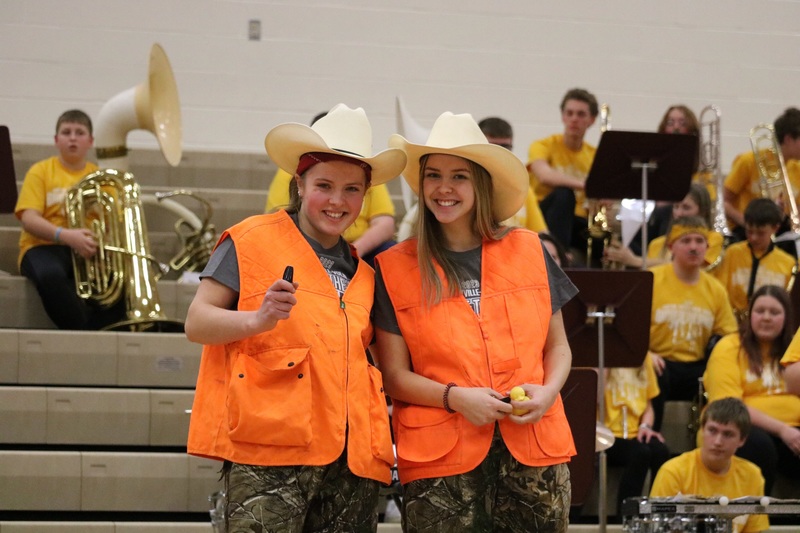 Senior Megan Tramp and sophomore Cameryn Fiscus "hunting for chickens