It was a busy night for the towns of Crofton and Bloomfield on Thursday January 26.
Both the Crofton boys and girls basketball took on Pierce in Crofton, and the Crofton-Bloomfield boys and girls wrestling teams had a triangular with O'Neill and Wayne in Bloomfield.
The Crofton-Bloomfield girls went into their duals knowing that they would not have a chance at winning as a team, but would still have some huge matches that would make a big difference on their state rankings.
The first dual of the night for the girls was against O'Neill High School. Freshman Pamela Dennis (115) would be the first one to earn points for her team, by going out and getting her hand raised because O'Neill was open at her weight class. Senior Madisen Petersen (125), making her comeback at the home dual, would also get her hand raised due to another open weight class.
Freshman Jaisie Janssen (155) was the first match of the dual. She faced #3 state ranked Poloa Vergara again, after facing her last week in the conference tournament. Although Janssen did not win her match, she would hold her head high in confidence that she will come back stronger next time. Sophomore Annabelle Poppe (170) would once again take on Madelynn Jakubowski.
All of her teammates and coaches celebrated as Poppe put Jakubowski to her back and came off the mat with a pin. This was the last match for the dual against O'Neill. The girls then cheered on the boys team as they finished their dual.
After both the girls and boys finished their duals they sat back and relaxed while O'Neill and Wayne duked it out.
After O'Neill took home two wins over Wayne and Crofton-Bloomfield, the Crofton-Bloomfield girls would take on Wayne. This first match of the dual was between Dennis and Hannah Burris.
Dennis would win the match with a quick takedown to a pin. Both teams would come up open at 120lbs. Ranked second in the state Petersen at (125) would face fourth state ranked Jaycee Bruns once again. Petersen would also win her match, in short time, with a swift takedown and a speedy pin. Janssen would have the next match of the dual. She fought hard through her match and came out with another pin and six more points for the Crofton-Bloomfield girls. Poppe would get her hand raised earning the final 6 points for the team ending the dual.
Overall the girls came out happy with how they competed, and are ready to grind hard for Districts that start Friday February 3 and continue on Saturday February 4.
District live results will be available on trackwrestling.com.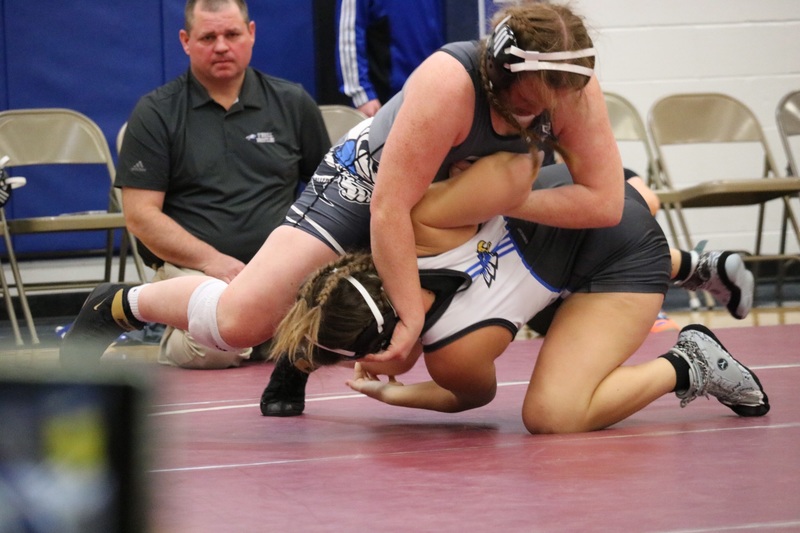 Janssen(155) getting prepared for the second period of her match.